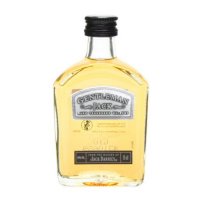 Jack Daniel's Gentleman Jack miniature Tennessee whiskey. This is a mellower style of Jack, due to the fact is twice charcoal-mellowed, once before...
more info
Our Jack Daniels miniature bottles are a favourite at Just A Glass. A small, 5cl, bottle of jack daniels is the perfect gift for any Jack Daniels fan...
more info
The distillation of Jack Daniel's Tennessee Whiskey miniature begins with the careful selection of the finest rye, corn and barley malt.  This...
more info